Brightening Miracle Essence (Step 2)
Poly Phenol helps to keep skin bright, while green tea Pantrofina and Rose Hip Oil work by brightening deeper inside. In only three steps the skin achieves a healthy white new look.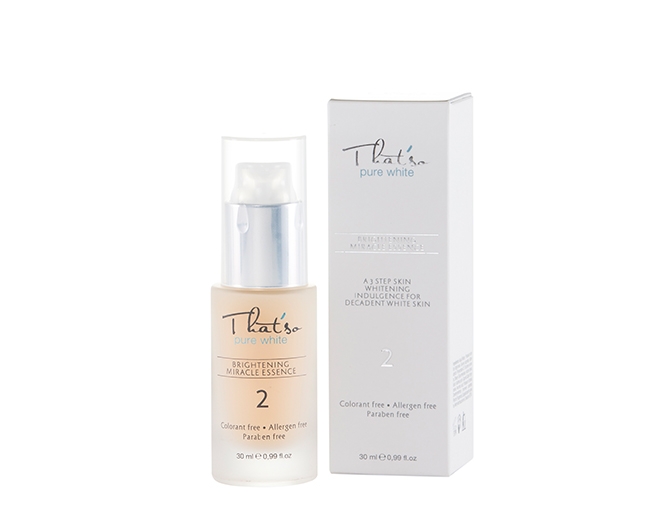 ส่วนผสมที่สำคัญ
- Alpha-Arbutin is a natural ingredient derived from berry : it does not irritate the skin, and gives tonicity and bright luminosity by working specifically on the agents that cause freckles and dark spot,s with no side effect.
- Chromabright contributes for radiant skin and safely inhibits the enzyme Tyrosinase : it accelerates the long whitening effect on the skin and helps to fight against aging and sunlight
-Pantrofina® functions to reproduce the natural moisturizing factor of skin and is derived from vegetable collagen : it prevents redness and allergy. Ingredients specially formulated and patented That'so
ผลลัพธ์หลังการใช้
Reduce freckles and dark spots.
- Even the dark skin color, making it bright and smooth.
- A very light moisturizer
- Protect the skin from roughness after sun exposure.
รายละเอียดสินค้า
วิธีการใช้

After the regular morning and evening cleanse use Brightening Miracle Essence, a mixture of Alpha Arbutin concentration to brighten the areas with freckles and dark spots and give the skin a smooth look by progressively reducing melanin production. The best treatment to get white flawless skinand to protect the face from sun and pollution.