LUMINESCENT NIGHT CREAM
Brightening moisturizing cream to stop the production of melanin in depth, prevent dull skin and give radiant look from inside. ActivaWhite™ is the innovative patented That'so formula to inhibit melanin production and to prevent from inflammation, The allergy-free alcohol-free ingredient is suitable for all skin types, especially sensitive skin and oily skin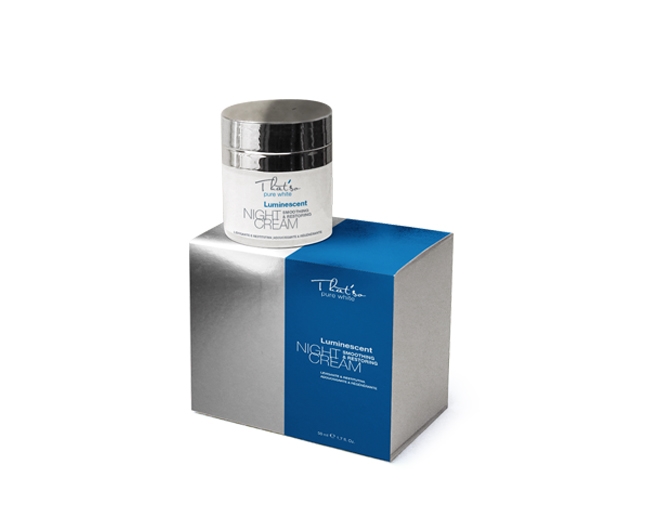 ส่วนผสมที่สำคัญ
- Activawhite ™ : Innovative Whitening formula patented That'so to reduce dark spots and dark
circles around eyes. Snow Lotus: it reduces the appearance of dark spots and is enriched with antioxidants;
prevents allergies and redness. Vitamin E protects against free radicals and pollution.
- Avocado Oil : to reduce dark spots, wrinkles, scars, makes skin smooth and soft, suitable for all skin types, even sensitive skin.
- Almond Oil : to soften skin and make it look younger.
- Shea Butter a moisturizer that helps to reduce skin aging and wrinkles.
- Hydrolyzed Rice Protein : Extracts of rice. Protect skin from collagen loss caused by pollution. It also helps to moisturize skin
ผลลัพธ์หลังการใช้
Ideal to reduce wrinkle visibility and sagging skin.
- Whitening
- Non-sticky
รายละเอียดสินค้า
วิธีการใช้

- After cleansing the Luminescent Night Cream apply throughly on face and neck.

- Massage the cream, starting from the middle of the forehead, and spread from the
side down and massage back from the chin up as in V shape. Repeat three times.